We'd love your feedback! Click here to submit your own testimonial.
Simply amazing
I got the cream at the Lagrange Arts and Craft show and WOW. I used it on my knees that are always sore from playing sports. Within 2 days the pain was completely gone. THANKS AGAIN!
Jay brown
Lagrange, Illinois
Relief
The soothing Calendula Salve cleared an eczema breakout on my fingers. It also help to quickly heal a badly blistered 2nd degree burn. This works! Thanks Valerie.
Chuck Grote
Batavia, Illinois
Awesome product
I was given the unscented body butter to use for a tattoo I had just got… loved it way more than the lotion I had. A very little goes a long way too!
Cody Aevermann
Itasca, Illinois
Heaven in a bottle!
I have been looking for organic, handmade products like this for a while and so far this beats everything I've found out of the water, BY FAR. The body butter is silky smooth and leaves your skin feeling hydrated and fresh, not oily like some other homemade lotions do. The unscented body butter is perfect for those with sensitive skin. I gave my dad the Arnica's Miracle Cream and he says he's noticed a huge difference. He puts it on before bed and in the morning and says it's helped ease the aches and pains that come with getting old. I use it when my muscles are sore after a workout or after sitting all day. All of her products smell AMAZING and you can read all of the ingredients on the label. And you can even pronounce all of them! When is the last time you looked at a label from a lotion from the store? I barely know what most of those ingredients are. It's an amazing feeling to know what exactly you are putting on your skin and that it's handmade with care. Thank you Valerie, for sharing your creativity and healing with the world!
Kali Aevermann
Itasca, Illinois
Germanium Face Creme is Amazing!
I started buying only natural and essential oil moisturizers for my face a year ago and have noticed a great improvement in my skin over using commercial or cremes with synthetic ingredients. After running out I met Valerie at a local farmers market and decided to give Ziemia a try and am so glad I did. Her ingredients are superior to over what I was using. In just a few days some problem areas I had on my face are healing quickly. It is so concentrated that a little goes a long way! Can't wait to try some of Ziemia's other varieties as well. In addition, I picked up her Solar Plexus Chakra Balancing Spray which I use to seal my face after applying makeup making your morning look last longer. Feels great not only to buy natural products but to support a local merchant as well.
Lisa - Hanover Park, Illinois
Hanover Park, Illinois
Arnica's Miracle Cream–don't leave home without it!
I love Ziemia's Arnica's Miracle Cream! I have soreness in my neck and back, so I have a container by my computer, in the living room AND in my purse. I recently went on vacation and took the large jar with me, too! It's so soothing, and I feel better immediately. I met Valerie at a craft fair in Nov. 2017 and had a stiff neck. She offered me a sample of the cream, and I experienced immediate results. I look forward to trying more products!
Connie - Schaumburg, Illinois
Schaumburg, Illinois
I've just started using the rose facial cream since Saturday, once in the morning, once at night and wow…what a difference in just a couple of days! I was looking for something like this for a while now and so happy to have tried this! Thank you, Valerie!
Wendy Cernius - Lake Geneva, WI
Lake Geneva, WI
Can't thank you enough!
My mother, daughter and I all LOVE these products. My daughter has horribly dry skin and the only thing that she will let me use on her is the lavender body butter. Until we found the lavender body butter, getting her to put any lotion on was a nightly battle, now she brings it to me and tells me that "it's time for my lavender". I've also added the rose facial cream to my daily routine. Almost immediately the dark spots around my eyes faded and are nearly gone. My mother also loves the lavender body butter and was so impressed with how the rose facial cream faded my dark spots that she started using it and it has taken away the redness she has due to rosacea. I am so glad that we found Ziemia.
Wendy Pilichowski - Moline, IL
Moline, IL
AMAZING PRODUCTS
I can't say enough good things about the products I've used as well as the brand as a whole. I have the Rose Facial Cream which I use religiously. I also use the Tranquility Body Butter that is amazing during the Fall and Winter months and moisturizes my skin like no other cream ever has! Lastly, the Solar Plexus Chakra Spritzer, which smells truly like nothing else! I use multiple times a day. Honestly, all of these products aren't like anything you can find in normal stores, so I HIGHLY recommend everything!!
Samantha Lopez - Naperville, Illinois
Don't miss out!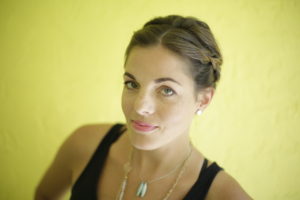 Nothing but purity and perfection in all of the Ziemia products. I say "all" because I use ALL of them!! They smell heavenly and leave my skin rejuvenated. My husband uses the Arnica cream on his back arthritis daily and swears by it! Worked wonders for both of us!!!
These products are made with the best ingredients and a whole lot of love. You're missing out if you haven't tried them yet!
A Very Happy Customer:)
The Calendula Salve that Ziemia makes is amazing. Any bumps, bruises, skin blemishes…this is the product for you. Its not slimy or thick…its the perfect consistency. You don't need a lot…a little goes a long way.
I also use the bug spray in the summer…..such a good subtle scent, and did the job we needed it to do.
Great Products, great service.
Laura Meehan - Mount Prospect, Illinois
Can't live without this !
I was first skeptical when I bought the miracle cream. I have had repeated surgeries and terrible arthritis and nothing worked until I found Ziemia . I seriously can't live without this! Thank you !
Carolyn -Wheaton, Illinois
Crossfit
Being a CrossFit athlete I often get sore, I personally use the Arnica's Miracle Cream and the Bath Salts and love them! Soreness goes away much faster! Love all the products I've tried.
Macy Allen - Naperville, Illinois
Rose Facial Cream
I waited to do review until I used the products for a while. The Rose facial cream is amazing, my skin feels and looks fabulous. My skin tone has improved a lot. Arnica cream and salve is working for my knee pain. Also, Earth's Body Butter I use on my elbows, they look much better and not as dry as before.
Janina Wahlborg - Algonquin, Illinois
The Best Bath Salts Ever!
The best bath salts ever. Ziemia made custom lavender salts for me and it was amazing. You only use a small amount and the scent is soooo relaxing. I have never felt more relaxed getting out of the tub using her products. There are no products out there that can compare to Ziemia's!!!!!!!!!
Margaret Dillon - Naperville, Illinois
Pretty Much Obsessed
My two go-to products are the Citrus Facial Cream and the Arnica's Miracle Cream. I was battling a lot of acne and strange facial rashes before I found this and my face has absolutely never looked so good! The Arnica literally works for everything! I'm for sure a customer for life!
Amazing Natural Products!
I LOVE and now cannot live without the Rose Facial Cream. It has improved my skin so much and even the appearance around my eyes. Also love the Bath Salts 🙂 Thanks for being at the Naperville Farmer's market!
Haley Wright - Naperville, Illinois
Arnica's Miracle Cream
Comfortable connection, easy communication, excellent product that really relaxed my neck!
Customer Feedback via Square - Elmhurst, Illinois
Love everything I've tried!
I use the rose cream both as a waterproof mascara remover and a facial cream. It's very gentle to my eyes and makes my skin feel great. The Arnica cream works great on aches and pains and even took the pain of a bee sting away! Also love the bug repellent and other face cream. I will be using these products for a long time to come!
Lavender Facial Cream – Amazing Stuff!!
This is my go-to face cream when my skin needs extra hydration with the added bonus of a fresh true lavender scent. I'm in love with the simple, pure and effective ingredients and my skin loves them just as much! I would highly recommend this product!
Martyna K. - Milwaukee, Wisconsin
Insect Repellent – This stuff is great!
I work outdoors as a landscaper and finally found a bug spray that works.
Kyle Pierce - Sanibel, Florida
Customer for Life!
I am absolutely in LOVE with Ziemia's line of products! I cannot live without the Calendula salve. It works on all of my scrapes and cuts and is excellent for applying to mosquito bites! When applied to mosquito bites it removes the itch within minutes and after about half an hour you cannot even see where the bite was. The Arnica Miracle salve works better than any Arnica salve I've tried in the past. I used it recently after moving and it kept me mobile even when my muscles were screaming, 'No More!'. I am also using the Rose Facial Cream which smells so good and leaves my face feeling soft and supple. And the Earth's Body Butter is so wonderful as an everyday moisturizer after my shower, it is nourishing and leaves my skin feeling soft and smooth and I smell great! Ziemia's line has all I need to have radiant and nourished skin and I am so grateful to have found a line of products that is pure, without chemicals and harsh additives, and that is affordable. I will be a customer for life!
Nidia - St. Petersburg, Florida
Unexpected Benefit from Arnica Cream
I was pleasantly surprised to find that the Arnica cream not only helped with my arthritis pain, but also made the black and blue marks that cover my arms disappear. I wish I had taken a before picture, it really is unbelievable!
JoLynn Bartolomei - Fort Myers, Florida
Insect Repellent
I'm so happy to have found an insect repellent that finally works here in SW Florida; it's a lifesaver. Thank you!
Lisa - Ft. Myers, Florida
Arnica' s Miracle Cream
I use this product for pain relief, and I love it. I have given it to friends to try, and they love it, too! I can't wait to try the other Ziemia products!
Eileen Kearney - Wheaton, Illinois
I absolutely love everything made from this amazing company.
It's wonderful to know everything in it is the highest quality. It's made with love. Completely addicted!
Aimee Morrison - Asheville, North Carolina
Arnica's Miracle Cream – it works!
Have been using the Arnica's Miracle Cream for arthritis/pain on the top of my left foot for maybe 2 weeks or so. The scent is very light — not overwhelming — and it works! The stiffness and discomfort I have been experiencing over the last 2 years has markedly diminished!
Diana Breakville - McLean, Illinois
We LOVE our new Ziemia products!!!
So amazing!!
Keri Smith Grant - Fort Collins, Colorado
I own a handful of these products and LOOOVE them!
I can pronounce every ingredient and have peace of mind knowing there's no trace of anything toxic to damage my body or skin in the long run. Pumped to now see insect repellent in the shop! Perfect for me and especially my kiddos!
Alexis Fraser - Toronto, Ontario
Love the Arnica's Miracle Cream!
Love the Arnica's Miracle Cream!
Elmhurst Farmer's Market - Elmhurst, Illinois